The Shop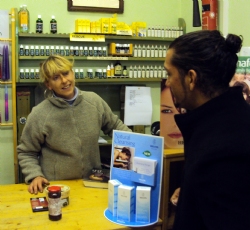 Although our premises are "bijou", we make great use of the space we have, and what we lack in space you gain in expertise. Our team members are friendly, helpful and knowledgeable and take pleasure in helping you find whatever you're looking for, from wholefoods to nutritional supplements. If it's not on the shelves just ask and we'll make every effort to obtain it for you. If you just want to ask questions – ask away!

Dedicated to our customers' health and wellbeing, and passionate about what we do, we run Roots on ethical lines. This extends to reducing food miles wherever possible and avoiding over-packaged products. It's the little things that make the difference.
Opening hours

Monday to Friday 9.00 - 6.00
Saturday 9.00 - 5.00
Late night opening on Wednesday 9.00 - 6.45

Parking and Public Transport
There is a free car park on Sponden Street - 25 yards from the shop. We are on bus routes 56, 57, 58, 59, 87, 88 and 89 from Lower Parliament Street and various parts of the north of the city.
If you'd like a map of where we are please click here.